Blog
If you can't find a business to devote yourself to, we may advise you to start an online school. Not many endeavors in 2020 are worth your attention, but it doesn't apply to an online school. Distance learning gains popularity because it's a lot easier than full-time training. People don't need to leave their house to get new and valuable knowledge and then transform it into skills. Here we'll discover all the secrets of running an online school. This article will be beneficial for people who have zero knowledge of this niche.
🔖 Preparation for launching your distance school
Don't underestimate the importance of preparation because it's the basis of your future course. It's better to care about all aspects of launching a distance school than to deal with the consequences later.
№1. Let's define the aim of launching a distance course in your school
A business that doesn't have a clear purpose is doomed to failure. If you don't know why your own school is necessary for you, give up the idea of starting it until you find a good reason and proper motivation. Check some statements and if you feel that one of them perfectly describes your situation - start preparation:
You're an expert who wants to share the accumulated information and skills.
You have a blog and want to get more subscribers.
You want to advertise your goods or services in an online course.
№2. Choose a direction, theme, and teaching methods
Take care about the subject and vector of your school and online courses — they should be sought-after; otherwise, you won't gain the required number of subscribers. The next thing you should do is select the teaching methods. Your choice will influence the type of classes, the information they'll contain. Moreover, the format of the school depends on the teaching methods you choose.
Remember: studying doesn't happen independently; students are in a social environment affected by numerous factors. Online learning should include various activities, including teacher-student and student-student interaction. It can be various social events, group lessons, and feedback to the teacher through messengers or emails.
№3. Gather a team of professional teachers.
The teaching staff is an essential element of your online school. At least it influences the reputation of your school. So you understand why you should be attentive when hiring teachers.
Can you describe what 'good teacher' means for you? We suppose that a good teacher is a highly respected person having long experience. Sometimes finding the right person takes months. If you want to be a founder of a school in good standing, please, be patient.
Besides having a vast body of knowledge, both practical and theoretical, your teachers should have outstanding communication skills and clearly articulate their thoughts. One of the best features of a professional instructor is to explain even the most complicated material the way everyone can understand it.Note that you may not hire teachers if you consider yourself qualified enough to hold lessons. Meeting the criteria mentioned above isn't enough to be a teacher. You must also understand how eLearning works. If you think that it's too difficult for you, don't worry. Learn how to start an online school, become its administrator, and invite professional teachers to hold online classes.
№4.Target audience: Is it necessary to know it?
The target audience or TA are people who may be interested in attending your school. Any business owner will tell you that the analysis of the target audience is a key step in launching any startup. Online courses and schools aren't the exceptions. You need to define your TA because it lets you get the necessary information:
Where your clients get new information, it lets you find the best way to advertise your online school: in blogs they read, websites they visit, materials they search in Google.
Their manner of communication. Write an ad copy that will be the most effective because it will be very similar to how they talk.
How they choose and compare products of your niche. This knowledge helps to structure aspects and prioritize them when creating content.
What do people want? Offer people a product that will align with their values and priorities. Finally, your website will look 98% relevant for them.
№5. How to create a portrait of the TA?
Answer the following questions to complete this step.
Who do you work for? This information includes their age, sex, the sphere of activity, level of wealth, marital status, hobbies, habits, etc.
What do these people want to accomplish?
What do your customers need, and why can't they satisfy their needs?
If you answered all these questions, you understand your TA and can turn to the next step.
№6. Launching a school: marketing plan
You may think that finishing the previous steps is enough to run your own school. However, if you run your school without a marketing plan, people will hardly hear about you, and still, less buy a course. Online schools, like any other business, should have a clear marketing plan and follow it. Here are the marketing instruments you should use to develop an effective promotion strategy:
Develop a high-quality website. Do you know what high-quality means here? It means your website should be comprehensive and contain information about you as a founder of this school, about your training courses, and don't forget to explain to clients where and how they can sign up for courses. It's important because it lets you take advantage of SEO.
Have you ever been a blogger? No? Then it's time to become one. Turn your private account into a blog or create a new page to devote it to blogging. Post information about eLearning to engage people in your personality and your products.
What about SMM? Having your blog is good, but your school shouldn't be sidelined. Twitter, YouTube, Facebook, Instagram, and even TikTok are good sites to promote your online school. Pay your attention to TikTok because it's on the rise these days. Share interesting materials about eLearning and place promotional posts to invite more people. The higher activity is on your page, the more attention to you and your products. Initiate discussions in comments and interact with your audience to maintain their interest.
Place your courses on a unique platform. Courseindex.com is an example of such a service. It's a catalog of courses from all over the web. Courseindex.com does more than just collect training courses. It uses the most effective affiliate marketing instruments to promote sites and these courses.
Don't forget about your graduates. Friendly relations between teachers, managers, school administrators, and students worth a lot. Make every effort to maintain them. Ask students to write reviews about your courses and recommend you to people. Reviews, especially negative ones, are a powerful motivator to become better. Product launch emails are another good way to not just stay in touch with grads but attract them to start another course in your school.
Start a discount period at your school. Coupons and special offers are good instruments that are often used to heighten interest in a product, and they also work well with eLearning. Here are several applications for coupons: Can be given as special offers; May be presented to standing customers; Can be placed on coupon-providing websites and partners; It may be sent as a part of an email promotion.
Catch potential clients. This trick is used to make people subscribe to a newsletter. Offer all visitors to join your mailing list to stay current on news and relevant proposals. But remember how you react to the offer to share your email address? Of course, you never fill all these order forms, just like your visitors. That's why you must write a proposal in some other way. Offer them to join a newsletter and get a bonus: Checklist; Presentation; Ebook; Guide; Course; PDF document, etc.
The overall number of marketing instruments is huge, so you can test all of them to find the best one to make your training course effective.
🎓 Realization of the concept of an online school
After you've specified all moments and details, have chosen the most effective sales method, it's the right time to proceed with creating an online school using a special platform, preparation of educational resources, QA testing, and then you may start your classes.
№7. Creating an own platform for online school
First and foremost, our task is to develop a website to place your online school. We advise you to start this process with the creation of the landing page. It's the first page your website visitors see, so it aims to catch as many people as possible. Create a nice logo, add it, change the template's colors, change fonts, and do everything you consider necessary to personalize your website.
Modern website builders do everything for you: they offer a wide range of templates you may customize.
The choice of the right templates, fonts, heading, images, and other elements is crucial. A good landing page is the one that can make people check the content in a matter of seconds. It's your aim.
A landing page isn't everything you need to perfect. The 'About Us' page should look stunning because it can be used to introduce your brand, 'The rules of studying' page, 'Training program' page, and other pages require your attention.
№8 Ready-made solutions for online classes
If you don't want to spend time developing a platform for online school from scratch, it's okay. Use pre-made online platforms. These are short descriptions of the most popular platforms for online school creators:
| Name | Monthly cost (RUB) | Peculiarities |
| --- | --- | --- |
| Flora LMS | from 4,000 | It has a convenient courses and classes builder, fast money transfer, detailed statistics of all sales and received income. |
| GetCourse | from 4200 | GetCourse has software to develop courses, its own payment system, CRM, and detailed statistics |
| Learme | from 2000 | Supports SCORM courses |
| Антитренинги | from 1500 | Russian platform with a user-friendly interface for fast work |
| Udemy | 5% of all sales | Ample opportunities to sell and promote your course. |
🖍 Launching an online school: preparation of material
If you want your school to be a profitable business, devote time to prepare resources and materials for students. Your primary goal is to share knowledge, so do your best to achieve it.
№9 Defining approaches
Start with identifying the educational purposes. Good educational purposes should meet the SMART criteria. We mean that good purposes are concrete, measurable, achievable, realistic, and time-bound. Courses and all materials must solve students' problems.
Develop a logical order of materials you'll use based on thematic categories. There are several pedagogical approaches:
Integrative learning.
Case studies.
Open discussions.
Co-education.
Experiential learning.
Student assessment.
You can follow any of the approaches mentioned above. Mix several methods if you can't choose one; it's a good alternative. Some people who launch online schools and academies don't think that pedagogical approaches aren't necessary.
However, if you won't use them, you won't achieve your studying goals.
What about the forms of instructional materials? Online school creators should pay attention to two main forms: educational videos and text documents.
№10 Using educational videos in eLearning
Video is a powerful and irreplaceable tool for online learning — video content increases student participation. If you want to make the most out of video content, include interactive videos in your course. Specialists recommend creating videos and adding some interactive elements or actions to them.
№11 What about using text documents and ebooks?
Students like watching videos because it's the most interesting type of educational content; however, most students also like reading. Ask any course creator, and you'll make sure that text documents are so much simpler to create. Moreover, it's a good way to include more information than videos. Text documents can be different: educational leaflets, guides, reports, case studies, or any other material students can use.
Do you want to know the best format to use in online studying? It's a PDF. Modern services also let users create ebooks. For example, LearnWorlds offers people interactive ebooks: students can read them, make notes and use other instruments.
№12 How to start an online school that'll be profitable?
In addition to electronic books, PDF files, documents, presentations, animations, videos, and audio lessons, your courses should contain enough gamification techniques: Tests; Signs; Quizzes; Certificates, etc.
Your courses system should support discussion forums, blogs, podcasts, quizzes, infographics, etc. It's also important to define how often you'll hold lessons and what types of content you'll present. Is your approach independent? Can your students get access to learning materials conveniently, or is it limited in time?
👀 Summing things up
Well, now you have the best educational platform full of learning materials. You already have a training plan and successfully attracted your TA. Take your time and test the final product before releasing it to prevent yourself from failure.
❓ FAQ
Is it possible to use Youtube to attract students?

All's fair in love and war and in your attempts to attract more people to educational content. Do you want to use Youtube? Do it. Upload your promo video to Youtube or start a channel for your online school. Share useful videos with integrated advertising and be ready to accept new students.
How to select the best virtual learning platform?

Before you choose a platform, ask yourself about its availability:
How and where do you want to use your school?
Can people access it from mobile phones?
Can people access it using OTT software on their TVs?
Depending on the school you want to launch, people will expect different levels of accessibility from you: students will prefer watching lessons in yoga school using their TV, whereas drawing academy should be easily accessed from PC.
Can you provide examples of effective online schools?

Well Learning Library, Hung Kuen Kung Fu Academy, Start Social are the best examples in terms of design and presentation of material
What payment systems are better to use in an online school?

Here are several payment systems you can connect to your school. They are very simple and convenient: Edusys, PagSeguro, PaySchools, 2Checkout, Paypal.
Launching online courses became a widespread way to go into a business because it's not so difficult to create but still profitable enough. However, it doesn't mean that making a course from scratch is easy for everyone: this work still makes a person spend a lot of time and effort. The eLearning niche grows rapidly worldwide, and experts state that its value will rise to 300 billion USD after five years.
If you think about becoming a course creator, your head is probably full of various questions, and you want someone to explain to you the strategies of selling and promoting your product, the principles you must use when designing a course, the ways to identify the topic that'll be interesting for people. We'll become your guide in this new world.
Be sure that this article will answer these and many other questions that may seem unclear to you. Moreover, we'll answer the key question: how to create an effective and profitable online course from the ground up?
🖌 Early-stage: preparation for the launch
Step 1. Goal setting
Teachers must set goals and create a step-by-step action plan firstly. It's a kind of investment in the future because it helps the teacher achieve maximum results among the students. Goals are general guidelines, what the teacher has to give students and what they should know by the end of a course.
Step 2. What about your priorities?
Normally people create courses to teach people and gain profit. It would be best if you sort out your priorities the same way. When people set a profit as their primary goal, online school starts to lose its value. Focus on education. If money is everything you want - choose another niche to launch a business.
Identification of objectives should help you define if the topic is understood by users or not. Moreover, you can't write a plan for the lesson without mentioning the objectives of learning. When students can list their studying goals, they can easily handle all their difficulties during the course.
Step 3. Select a course theme
You won't spend a lot of time completing this step if you know what you want to achieve. Let's imagine that you have a high-class knowledge of a certain sphere. It's pretty obvious that you will share your knowledge in this course.
However, we understand that not all course creators can boast of having an academic degree or something like that but still want to popularise education. If you recognized a part of yourself here, have a look at these questions and answer them to understand what theme to choose:
If people ask you for assistance, with what problems do they turn to you?
Can you remember a situation when you easily found an answer to a question that seemed too complicated for all people?
Step 4. Go deep into the chosen topic
Even if you're an expert in the chosen topic, it isn't worth being indifferent to the process of searching for the information. A search for information and the action plan based on it are the most significant steps to achieving your goal: an effective online training course.
Put yourself in the shoes of your client: would you buy a course without knowing how many lessons are there, what topics you'll learn, and so on. Structured and verified data are what people can pay for.
Step 5. How to find the students?
An online course makes no sense without listeners or students. It's not so easy to get through to the people; that's why it's crucial to know as much about your target clients as possible to create a portrait of your TA. Carry out a small study, hold opinion polls on a convenient platform, and find the common problem of these people.
If your product solves this problem, then it's fine.
Step 6. Who will hold lessons?
Speaker is more than just a teacher who presents the material. In eLearning, the speaker is at the same time the face of the whole project. Making an online course popular among people is easy: be attentive to who you hire in your team.
Lecturers should be respected and qualified because it impacts the quality of information perception, students' motivation, and desire to continue studying.
📚 What materials you'd better use?
Step 7. Educational content preparation
Do you have a powerful imagination? Use it. Both teachers and course creators want to encompass as much information as possible, but the number of study hours doesn't let them do it. Well, what about a little brainstorming session? This approach will help you decide what content to use in lectures.
Don't forget to upgrade your qualification and refresh your knowledge on the chosen topic. It applies to professional teachers as well. You do not always have the time to attend courses, so check forums and blogs to learn something new and see what people like to read.
Step 8. It's time to handle the course's structure
At this stage, most course creators gain an insight into how to create an online school, a course, and what information to use. The current goal is to systematize the ideas that came to your head during brainstorming, separate them into groups, and finally put them in order.
Here are some recommendations on the course content.
Term
Definition
Recommendation
Small Victories
This approach presupposes giving students easy forms of assessment (tests and exercises) that can make students feel confident in themselves. Add such assignments to maintain a high level of enthusiasm and curiosity within them.
We recommend you allocate all tasks equally among all topics and add more exercises to the topic that seem to be more difficult. You'll quickly notice the rise in the academic performance of all your students.
Instructional scaffolding
This is a broad term, but it means a certain strategy of building the learning process that helps students move towards their goals progressively in an educational context. In other words, the teacher gradually adds new information to the learned one and helps students accumulate information without stress.
You'd better increase the complexity of tasks progressively. And simultaneously with learning new material, your students should do assignments to strengthen their knowledge of previous themes.
Active learning
Active learning is the use of practical tasks across the curriculum. If you think that selecting ten videos and texts and giving them to students is active learning, you're wrong. Create interactive materials, find good tests to check the knowledge they gained before, etc. It's what active learning means.
To take the most out of the active learning approach, the teacher needs to allow students to turn knowledge into action. We've mentioned that you need to use interactive elements, for example, quizzes, games, crossword puzzles, etc. Also, teachers must maintain communication between group members, encourage discussions. Create a group chat in messenger to let listeners discuss lessons and perhaps even make allowances.
Step 9. How can you prevent the decrease in student engagement?
Teachers who use the old-fashioned teaching methods and ways of presenting information often see that students aren't active. They just get bored. If you want your course to differ from hundreds of others, you must understand that the diversity of content is a way to achieve this goal. No student likes reading long texts and writing notes. Quizzes, games, listening comprehension, and many other activities can make students fall in love with your training.
Step 10. Add the chosen content
Your task is to integrate all materials used in this course and arrange them according to the plan. Although you've checked this material at the very beginning of your work, it's better to do it again and correct all mistakes. The time you'll spend on this stage depends on the amount of educational material you've prepared.
When you finish it, create the necessary interactive elements, certificates and check everything once again.
Step 11. How to make people more interested in your product?
If you want to make more people sign up for your course, make it entertaining. Add some interactive elements we've mentioned above and use your own ideas.
⚙️ Technical aspects of course creation
Step 12. What online platform to use?
Now the obvious question arises: how to organize the learning process and where to hold lessons? You'll need to use a special platform for online courses. Well-known eLearning platforms that are all over the Internet seem to be the easiest solution. You've probably heard and even visited such sites as Udemy, Coursera, Khan Academy, Skillshare, edX, etc. But they don't let you manage everything you can, including prices and the learning process.
Moreover, one of the key conditions of using these platforms is sharing a part of your income with them. You hardly want to give your money to someone and struggle with the competitors at the same time.
OJOWO is a completely new platform that uses another approach to cooperation with course creators. Use OJOWO if you want to create courses, hold lessons and promote your products simultaneously. Grow your eLearning business with OJOWO.
Step 13. Upload a course to the platform
OJOWO lets you not only create a course from the ground up but also download the course you've created before. The platform's interface is user-friendly, so you can get access to any element or instrument you need in just a few minutes. You don't need to have any technical skills to use it — it's the main advantage of OJOWO.
Don't worry about the inconsistencies in format; our platform adapts all courses to the screen size and orientation. No matter what devices your students use: smartphones, PC, laptops, tablet PC. All will work well. Course creators often complain about the difficulties with payments and record-keeping. OJOWO will help you forget about these problems as well.
If you have your own platform and your subscribers know about it, place your course there.
Step 14. Develop your own eLearning platform
Stop thinking that only developers can create websites. There are so many free and paid website builders that don't require you to be a web developer and have any technical skills at all. Social media accounts also can become a platform for your online course, but it's better to separate your blog from education.
Do you want to know one effective way to promote all your products? Record all your webinars and masterclasses and sell them.
Step 15. QA Testing
You may think that you've done everything well and it's time to launch the studies. No, you forgot about one important aspect — testing. You can be sure your course is effective until you check it. Some course creators prefer hiring experts who examine educational materials, correct mistakes, and make judgments regarding the effectiveness of the course.
Studying happens in the social environment, so motivate learners to maintain dialogue and form groups. First of all, they may become good friends, and it's good in itself. However, communication between learners lets them help and support each other, search for the answers together and study the information with zeal.
✍️ Conclusions
As you see, creating your own online course isn't as difficult as you thought earlier. You must be sure of your qualification, know how to keep listeners interested, and the main requirement is to desire to make a difference. If you're sure you meet all these criteria — begin designing your course.
If you're a course creator, you must know that this job is not only well-paid but very useful. Not all people have money to obtain a college or university degree, so you make education available and affordable to a higher number of people. Be proud of yourself and do your job well.
❓ FAQ
Where to begin?

We've already mentioned that you'd better rely on your creativity and imagination. If you really want to be useful to people, your brain will generate cool ideas without help.
How difficult is it to make a course?

In other words, you have to gather educational material, generalize it and place them on the chosen eLearning platform. Your TA will find and buy this course. As soon as you gather a group of students, you may announce the start of your studies. That's all.
Tips to popularize your training

Do you want to see what a successful and effective course should be? Here are the criteria:
It presents new information and teaches new knowledge/skills;
It offers a solution for a widespread problem;
It assists in accomplishing people's goals.
How to set a reasonable price?

Some course creators believe that high prices make people think this course is valuable. No, it doesn't work this way. This rule works in the opposite direction; when you set a too low price, people think that the information isn't valuable enough. The sum should be higher than the average. Compare the prices of your competitors, consider your TA and find a happy medium.
The webinar is a type of web-based conference that is conducted over the web. All participants of the event are located in a comfortable place for them, next to their computers, smartphones, tablets, or other gadgets.
💪 Why should start running webinars?
Today it is an economic and effective way of conducting personal events, which allows you to solve the following problems:
Personal brand building.
Attracting possible clients.
Building expert image, selling webinar organizer as an expert in the industry.
Target audience training.
Introducing goods and services.
Demo version of services, when we talk about educational services.
The online-based seminar can consist of different visual elements, like a speaker's video or slideshow. The last one usually ends with frequent questions.
This article will give you few tips for successfully plan and run the webinar.
The key benefits of webinars
Location independence. No matter where you are located, attendees from anywhere can take part in the event.
It's easier to attract an audience online. Since event listeners don't need to attend the event physically, spend time on the road, and on preparing themselves, they will more willingly take part in it.
Ample opportunities for communication. If listeners have questions about the presentation or product that you are demonstrating, they can ask it in real time, which helps to increase conversion.
40% of visitors are transformed into target leads.
You should understand that planning the webinar is not an easy task, which requires the best efforts and responsibility.
👀 The strategy of webinar creation
№1.Define the webinar purpose
The main webinar goals are:
Sales of goods/services.
Increase your subscriber base, attract new customers.
Loyalty increasing.
Increase brand awareness.
Build the expert's image.
№2. Choose an interesting topic
The most important element of the webinar is content. It is the basis of the entire planned event. Attendees visit webinars to find out something new. Therefore, the topic should be interesting.
One of our main goals is to show yourself as a top-class specialist. The presenter must convince the audience that he knows what he's talking about.
The topic must be useful to your attendees to run an effective webinar.
For example, the marketing theme is too general for discussion. Try finding a narrower theme — SMM.
Check here a few ideas on how to come up with the topic:
Find common questions.
Search the Internet for the most frequent requests.
Communicate with the team. Your sales manager can tell you what he discusses with the client.
Ask your subscribers what they interested in.
№3. Detect the best speechmaker
You can invite a speaker from your company or another expert. Also, you can attract influencers. The speaker should be experienced in the topic of the webinar.
№4. Find the intended audience
To understand who your audience is you need to know their problems and goals.
After you discover who your visitors are and what problems they face, then you will have a better chance of running a successful webinar.
№5 How to sell your product during the webinar
Don't start your webinar from the selling. Offer your product in mid-broadcast to make it not look like an ad. But you should remember 2 important points:
Information provided during online seminars should be valuable to your viewers. No matter whether they buy or not,
Talk about your product only when it is appropriate. It should be pertinently in context during the broadcast.
After that, we determine how we will advertise the event to attract the intended audience.
🚀 Marketing stage of the webinar
№6. Creation of welcome page
The landing page will give the main information about the event: what the webinar will be about, information about the talking person, date, and main points for discussion. This will motivate an audience to register
№7.Post in your social about the event
Post information about your web seminar on your blog even if you don't have thousands of followers. The posted information can be in the article form, accompanied by additional useful information, or as a concise announcement.
Provide a link to the event landing page, where will be the ability to register for the webinar. It is also useful to place ads on partners' social media with a similar audience.
№8. Social Media Ads
Advertising on social networks can bring you a lot of new attendees. Create your personal branded hashtag, as it can be a good interaction tool.
№9. E-mailing
If you have some contacts, email them with a short invitation. It should be easy to register.
📆 How to plan and prepare the webinar: creation tips
№10. Prepare the visual components
The visual of your presentation or webinar poster should match your brand book. Put your logo on the first slide or where it makes sense.
Fonts, colors, designs, and other visual elements must be of the same brand style.
№11. Consider the possibility of conducting paid webinars
The organization of web seminars can be expensive. Get paid for webinars can recoup costs. This model raises visitors' expectations about quality.
If you can guarantee a quality webinar, set the price for registration to get additional income.
The paid event might reduce the number of attendees, but instead, you will get a more interested audience. Try to set different prices till you find the optimal one for your audience.
№12. Get help and support of administrators
Be ready for multi-tasking if you decide to organize a webinar by yourself. It requires a big effort and much time. So it will be much easier if you find someone to help.
The assistants must be responsible and understand how the webinar platform works.
They may not be experts in your field, but they must be able to fix problems and interact with participants.
№13. Select the timing
Don't forget about the time difference If the event start will be at 7 p.m. NY time, it will be a bit late for the viewers from Paris.
№14. Pick a model
The models can be:
An expert shares his experience, ideas, or advice.

Two speakers event. This type is more detailed because it shares more information with the attendees.
A panel group event. Multiple experts discussion.
The interview format. It will be a good idea to invite an influencer. A popular guest will attract a lot of viewers.

Your product demonstration for its effective promotion.
Try a few types to reach the best format for your audience.
№15. A test run of your event
Get your team together and do a trial run. The test run will show basic errors and what is needed more to be at the highest level.
№16. Make notes of all steps
You will create several webinars to find the best format. Making notes in the process will help you in the future.
It will be easier to prepare webinars, as you will know all details and what is required.
Make notes for each step of your webinar to forgot nothing. Do separate notes for each webinar format.
🛠 Features of the webinar in 2021: technical issues
№17. The platform searching
Technical problems on your broadcast provoke unpleasant feelings among viewers. You will meet bad feedback and low sales.
That means the platform for your webinar is the most important element in success. Check all advantages and disadvantages before you choose a platform. To make a proper analysis use the next questions:
How much you can pay for the platform?
Are the required functions and options available?
How many visitors can attend the event?
Is there a record option?
The table shows the most popular platforms
| Platform | Language | Trial | Speakers | Attendees |
| --- | --- | --- | --- | --- |
| MyOwnConference | Russian | Unlimited | 10 | 2000 |
| iSpring Learn | Russian | 14 days | 50 | 1000 |
| Clickmeeting | Russian | 30 days | 7 | 5000 |
| Pruffme | Russian | 14 days | 7 | 1000 |
| Webinar | Russian | Unlimited | 8 | 10000 |
| Bizon 365 | Russian | 30 days | 15 | 5000 |
Please note that more than 25% of viewers watch the webinars using mobile devices. This part of viewers can be easily lost if you do not optimize the interface for mobile devices.
It is important when choosing a digital educational platform to take into account if it is adaptive for mobile interface.
№18. Check readiness and test equipment
You can't lose sight of any important point. Test your equipment and do a test run. It will be the best way to make sure everything is done properly
Be ready at least 30 minutes earlier before start to make sure everything works.
№19. Mute the sources of noise.
No children and pets in your webinar zone.
Mute all devices, that you will not use during the event.
Mute your doorbell.
✅ Tips for the webinar organizers
№20. Start without delay
Your viewers are busy, so don't waste their time. Waiting for the speaker is very unpleasant.
№21. Double preparation
The first impression is very important. The start of the event always sets the tone, so take all effort to ensure that it passes at the highest level.
№22. Quickly capture of audience attention
Catch your viewer's attention from the very beginning. A good reason should keep the audience interested till the end. Tell them what information you are going to share. Highlight what problems you gonna solve and make it sound exciting.
№23. Prepare answers for frequent questions
Your audience will be asking questions. Prepare in advance to sound sure and not get confused.
№24. Something can go outside your plan
Even if you do your best, some things can be out of your hands: no electricity in your house, no Wi-Fi, etc.
💣 How to hold an interesting webinar and sound like great speakers
№25. Write a good script
Your script will be your cheat sheet, that will help you keep the structure step by step. Speaking for half an hour can be hard if you don't prepare a script. Even if you are a professional expert with in-depth knowledge you still have a risk to fail.
№26. It is normal to change something or go out from the script
Even if a script is an important thing, you don't have to follow it completely. Remember, something can go wrong.
Sometimes, going off-topic is the only way to save the webinar and make the audience active.
№27. Try to practice your speech
You should practice making your webinar speech sound professional.
A well-spoken speech will set a good impression on your attendees.
№28. Create slides
Don't use presentation in a webinar if it will consist of hard text only.
Use more visual elements when creating slides to make them exciting.
№29. Try to add more media formats
Don't rely only on presentation. Use as many media formats as possible to make your broadcast more diverse.
№30. Сome up how to interact with the viewers
No matter how hard you try your viewers can get tired of a lot of information. It is so exhausted to listen to someone talking for an hour.
In this case, start to communicate with your audience asking them questions, or giving interactive tasks.
№31. No stress — take your nerves under control
You can be nervous in the process. And that's okay, especially if it's your first speech. Try to joke that you feel a bit nervous, but don't show it too obvious.
Prepare a glass of water in advance to prevent dryness in the throat.
№32. Sell by giving new knowledge
Do it at the same time. Give new knowledge and sell your product native in the process. It will be a big mistake to first teach, and then try to sell. This will make the audience feel used.
На протяжении вебинара вам нужно учить свою аудиторию и органично вставлять предложение товаров/услуг.
⭐️ Actions after the end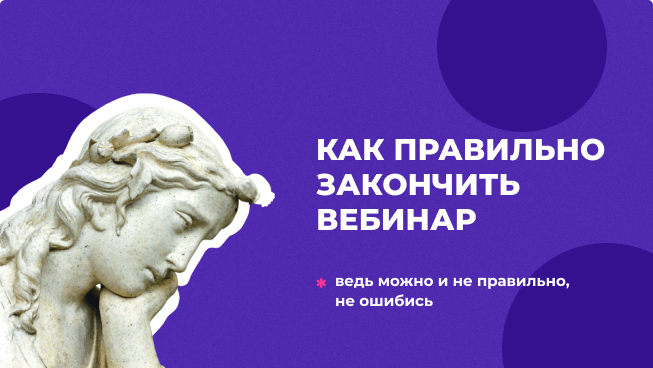 №33. Help your viewers understand what to do next
Your viewers should leave the webinar with a full understanding of what to do next.
If you want them to sign up for your course, tell them and provide links.
№34. Give the viewer a choice
By allowing choosing the theme of the next webinar, you show the attendees that their opinion is important to you. Just ask them to leave a comment.
№35. Gather feedback
Find out from your audience whether you like or don't like your webinar.
Ask them to leave a survey. It will help you to clarify if they are satisfied.
№36. Offer additional content
Provide your attendees additional checklist or link to the presentation. People like to get bonuses.
№37. Analyze the results
Key comparison points are amount of registered vs attended people.
This will help you check how effective the webinar promotion has been!
❓ FAQ
What kind of equipment is required?

Not much equipment is needed. The minimal set consists of a PC, Wi-Fi, microphone, and a webcam.

What is the minimum Wi-Fi speed?

To broadcast a quality video, the minimum speed is 1 Mbps. If you don't need a webcam connection, 512 kbps will be enough.

What number of attendees will be optimal?

As much as possible. However, you should involve your target audience. Other attendees probably will not be relevant.

Is it worth saving on the functionality of the platform?

First, clearly state what functions you need 100%. Maybe you can refuse some of them. Never exclude chat where people can communicate with you during the event.